It's not secret that breastfeeding is beneficial to moms and babies. The American Academy of Pediatrics recommends exclusive breastfeeding at least the first six months. Unfortunately, only thirteen percent of new moms actually follow through. We need to continue encouraging moms to breastfeed their children. For some women, however, they lack the necessary support they need and never quite feel prepared to nurse. A great way to help is to provide moms with some essential nursing products at the baby shower. These baby shower gifts will make nursing a comfortable, positive experience.
1. Mother's Milk Tea
While your bundle of joy is probably causing you no end of delight, moms can also feel overwhelmed and tired, especially when it comes to breastfeeding. We love the fact that the herbs in this formula have been traditionally used to help mothers support their production of breast milk and to promote healthy lactation. With fennel and anise (which give the tea a sweet, licorice-like taste), and coriander and fenugreek, each sip is like stepping into a tradition that has been passed down from woman to woman for hundreds of years.
$4.99 for 1 box
2. San Diego Bebe Eco-Nursing Pillow
The San Diego Bebe Eco-Nursing Pillow is an eco-friendly nursing pillow that offers support, comfort and discretion for mom and baby. The supportive pillow is loaded with amazing features for discreet nursing and is also the first baby-safe, foam-free, non-toxic nursing pillow on the market. Made with Eco*Loft(TM) Fiber, the pillow is free of fire-retardant chemicals, hypo-allergenic, odor-free, glue-free, lead-free and Phthalate-free. It is available for a single baby and for twins.
$59.99 – $79.99
3. Nizo Wear Nursing Bras
Nizo Wear nursing healing bras feature a unique patented pocket in the pull down flap that can hold a warm or cool pack. Applying a warm or cool compress (depending on the symptom) will give mom relief and make breastfeeding more comfortable. The pocket acts as a thin barrier between wearer's skin and the heating or cooling pack, which increases comfort and safety. The Nizo Wear design has removable molded cups and the pocket also holds a nursing pad. In addition to the innovative functionality, Nizo Wear is made from amazingly soft fabrics and designed with lace, rhinestones, playful prints, and shapely lines to help moms feel stylish and good again — even when nursing.
Nizo Wear nursing bras currently come in three feminine styles: the Serenity Nursing Bra, Solace Nursing Bra, and the Allure Nursing Bra.
$19.99 – $29.99
4. Undercover Mama Nursing Shirt
Undercover Mama nursing tank tops makes ANY top a nursing top! It's the stylish and affordable alternative to a big expensive nursing wardrobe. Simply pair your favorite top-opening nursing bra with an Undercover to make any shirt a nursing shirt! These undershirts are constructed of quality material and are made to last. Your Undercover won't bunch up, slide around, or ball up after washing. They fit where you need them to while keeping you covered in style. The generous length allows you to tuck it in or go for a layered look.
$24.99
5. Woombie Air Wrap
Woombie Old Fashioned Air Wrap(R) is the first breathable nursing cover and has multiple uses such as a baby swaddle and a nursing cover for breastfeeding mothers.
Woombie Air-Wrap® Blankets offer a safer alternative to the newer baby swaddles on the market. It is made of 100% organic cotton breathable fabric and offers a new edge to the traditional square blankets with an innovative venting system. As the first ventilated swaddle blanket it allows for excess heat to escape to regulate baby's body temperature while swaddled to keep your baby cooler (overheating is a risk factor in SIDS.) This cooling technology is perfect for babies under a nursing cover to ensure they do not overheat.
$44.00
6. Soothies(R) by Lansinoh(R) Gel Pads
Soothies by Lansinoh Gel Pads provide instant, cooling relief to breastfeeding mothers with sore nipples. These safe, reusable and absorbent gel pads soothe and protect the delicate nipple area to enhance breastfeeding success.
$11.99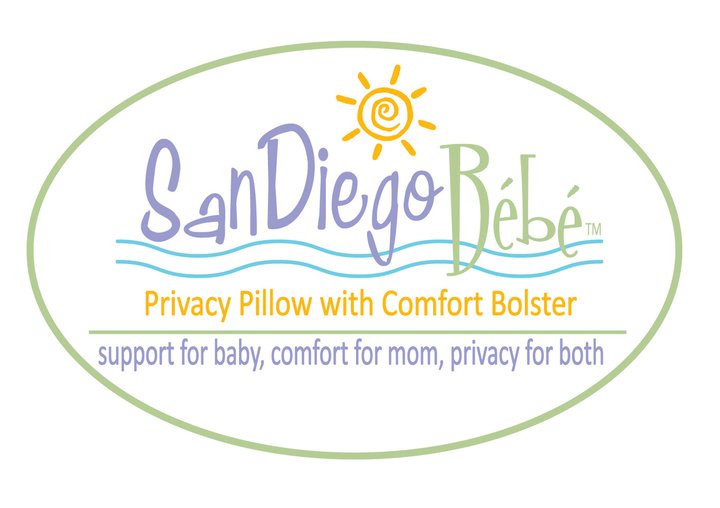 Guest blog by Sandy Clark, Inventor of San Diego Bebe Eco-Nursing Pillow
San Diego Bebe® was designed by San Diego native Sandy Clark, a passionate breastfeeding advocate and mother of twins. Clark was inspired at a San Diego beach one day where she witnessed a young mother unsuccessfully nursing her baby. As the mother struggled to keep a blanket across her shoulder for privacy while her baby wailed from heat and hunger, Clark vowed then and there to design a product that would help resolve the issue of discretion while nursing in public. San Diego Bebe® was born that day.
After Clark read a recent Duke University study on toxic chemicals in baby products, she sent her nursing pillow to Duke to be tested and reviewed. Duke University Chemical Scientist Dr. Heather Stapleton, the nation's leading fire-retardant research specialist, and a new mother herself, said, "It's wonderful to find a nursing pillow on the market that is not treated with chemical flame-retardant additives in the filling material. San Diego Bebe® Eco-Nursing Pillow is not only a very supportive pillow with amazing features for discreet nursing, but is also free of flame-retardant chemicals that have been shown to cause adverse health effects in animal studies. I applaud this manufacturer for taking steps to produce high quality products that meet the same flammability standards without using these chemicals."
San Diego Bebe® Eco-Nursing Pillow is the healthiest and most innovative nursing pillow on the market. Made with virgin Eco*Loft™ fiber, a non-toxic and hypo-allergenic foam-alternative, it's void of harmful chemicals. It's also recyclable and eco-friendly. San Diego Bebe® is available in two versions, for nursing one baby or twins. The entire line is baby-safe, and is covered with deluxe plush fabrics including organic cotton.
Click to view a Nursing Pillow Comparison Chart to learn more.
Interested in writing a guest blog for Woombie? Send your topic idea to pr@woombie.com.
All data and information provided on this site is for informational purposes only. Woombie makes no representations as to accuracy, completeness, current-ness, suitability, or validity of any information on this site and will not be liable for any errors, omissions, or delays in this information, or any losses, injuries, or damages arising from its display or use. All information is provided on an as-is basis.