The busy schedules we all have are making us forget to have fun and enjoy the lives we work so hard to build. Nowadays, rarely does anyone spend most of the day with their kids because of all our obligations. But what matters is to turn the time we have with our children into golden memories. Summer provides excellent opportunities for that. There are so many fun hobbies to try with your kids this summer and build a better relationship with you and have the time of your lives. Study our suggestions and choose what suits you best.
Hobbies to try with your kids that build new skills
As parents, we constantly think of new ways to improve our kids' future and well-being. Getting your child into an educational course in summer may seem a bit much. Yet, when you factor in the fun element, the learning process suddenly becomes a great source of beautiful memories. You can sign up for many courses with your child, which can benefit you both in the future.
Learn a new language. You can select a language that interests you and join a foreign language school with your child. Even if they place you in different learning groups, you can practice talking to each other at home. With an older child, you can explore the culture of the language you are learning by researching it online.
Take up a new instrument. Learning how to play the piano or the guitar is extremely fun regardless of your age. If all goes well, you and your kid may even be able to organize a performance together for your family and friends. This interesting hobby will make your child the center of attention in the future when an opportunity arises to show off their musical skills.
A cooking class for all. This is both fun and immediately gratifying since you get to enjoy your new hobby's tasty products right away. The usefulness of cooking is never-ending – from preparing food for everyday nutrition to impressing friends and partners in the future. Your kid will thank you for it when they grow up.
Make a hobby out of socializing with other people and their children
Everything is more fun with friends. This goes for children and parents alike. Having one-on-one quality time with your child is essential, but putting your friends in the mix will multiply the fun. Almost every living being needs to be part of a group. Why not think of activities you can regularly do with your friends. You could invite your buddies that have kids as well and meet them at the pool on Saturdays, for example.
If your children have friends from school or kindergarten who have sociable parents, contact them and set up a picnic in the local park. This will be easier if you're looking for some family fun in Miami or some other metropolis. Mainly because the city offers many options for group gatherings and fun activities. If, on the other hand, you live in a smaller community, maybe more intimate playdates are in order. If your hometown doesn't provide too many activities to do with your children and friends, you can always invite them home once a week for some lemonade and chat.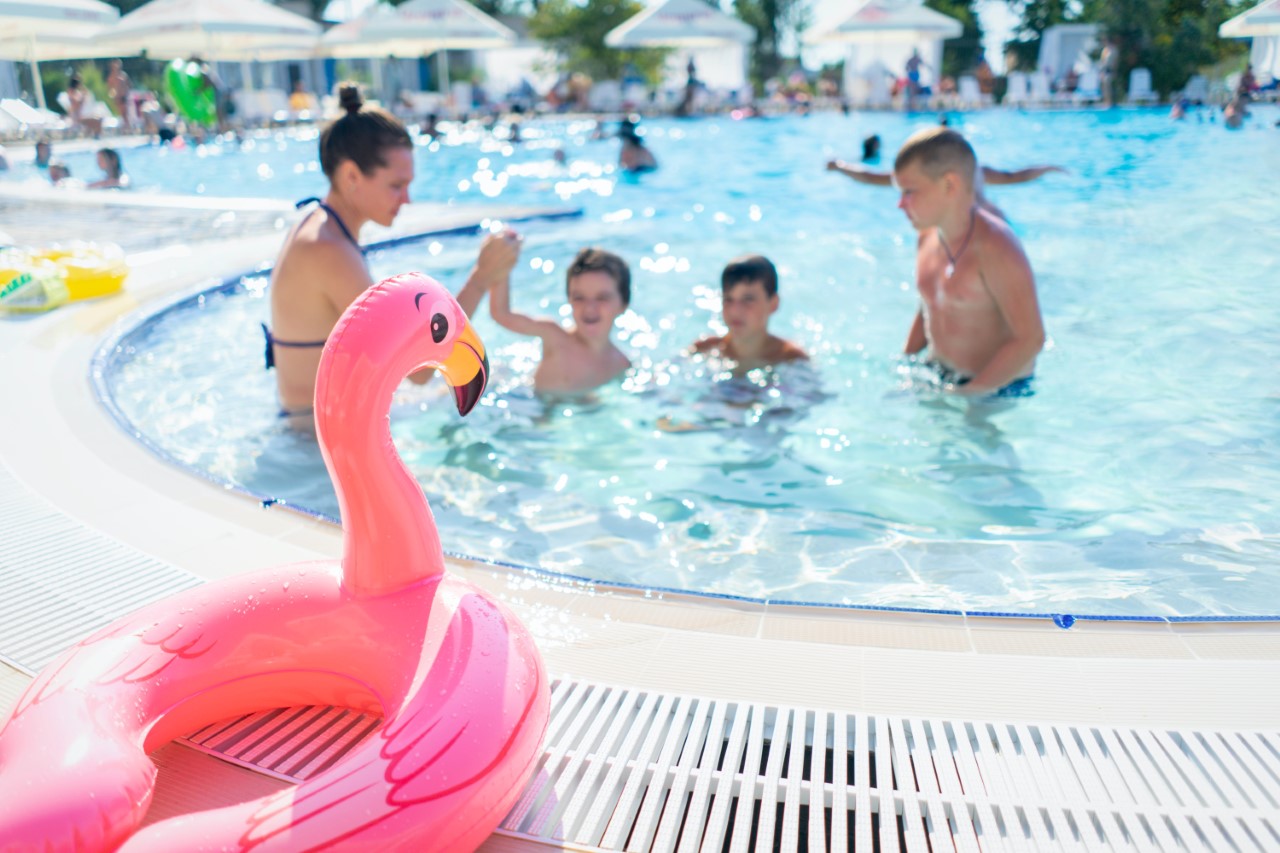 Hanging with friends and their children at the pool will make this summer awesome
Get creative with your kid and connect on a deeper level
Our bond with the precious beings we gave birth to is everlasting and ever-evolving. The more we spend quality time with them, the more stable their emotional health will be. Find a creative hobby you can do together with your kid. It will ward off boredom and create a deeper connection between the two of you at the same time. Here are a few ideas:
Make a comic book together. This activity is creative on so many levels. If drawing and making up stories is your thing, the amount of fun you will have is immeasurable. You might even have a masterpiece on your hands when you are finished.
Design new clothes. If you know how to sew (or would like to), your child is in for a unique style. Sit down with your kid and discuss how they would like to look. Draw some new clothes designs from scratch. Think of fabrics you could use and where these designs will have their premiere. But a piece of warning – this hobby might become a lifelong obsession. It is that
Paint. Oldie but goodie. Painting has entertained children and adults alike since the stone age, so it shouldn't be overlooked. From a kind of meditation to the releasing of happiness hormones, painting can mean lots of happy moments spent between you and your child.
Painting and drawing are one of the hobbies you should try with your kids this summer
Spend time outside in fresh air doing a sport together
The rise of technology and its infiltration into our lives made us almost forget how to run. Having a hobby that makes us physically active and go outside is advice any doctor or teacher is bound to give us at some point. Summer is the perfect time to install this new healthy habit into our kid's routine. In summer, children are free from school obligations, so building some stamina through fun activities will benefit them enormously. So, here are a few interesting sport-related hobbies to try with your kids:
Tennis. The good thing about tennis is that you don't need too many participants. You could take a few lessons with your child, and soon this could become your after-work and healthy after-school ritual.
Fishing. This engaging sport isn't too physically demanding, but it will get everyone involved to connect with nature. If peace is your cup of tea, grab a pole, a few cold sodas, and some sandwiches, and off to the nearest fishing location.
Riding a bike. A good type of exercise and generally fun for all generations, riding a bike had to make it onto our list. It is uncomplicated, and good route planning can turn into a fun adventure.
Horse riding. For those who love animals, horse riding is perfect. This is one of those things you are either afraid of or fall in love with completely. Give it a go together with your child; you might discover a whole new type of joy.
Parents and children who love animals should try horse riding as a hobby
Summer, most people's favorite season, offers happiness in many forms. From doing sports to artistic activities, everyone can find something to do that is fun and useful. For parents and children, any time spent together is precious. But it becomes special on a whole new level when you make a hobby out of it. Whatever you choose from the abovementioned hobbies to try with your kids will make this summer unforgettable.